CIL Avalanche Control Products
January 19, 2013
Safety Bulletin
TO ALL USERS OF C-I-L Explosives Snowlauncher slip-pin avalauncher systems.
In 1998, CIL Explosives entered into the North American avalanche mitigation business along with partners Austin Powder Company, Maple Leaf Powder Company, Omni Explosives, and Wesco Explosives. The goal of the consortium is to provide essential products and service to the avalanche industry. With a unique line of custom snow control explosives and systems, CIL is proud to assist ski areas and government highways in keeping the public safe throughout North and South America and Europe. The AAA, CAA and NSAA act as conduits for CIL to connect with professional avalanche control practitioners through explosives training seminars sponsored, in part, from CIL's generous donations to these organizations.
This is a market our company has grown in cooperation with the CAA over the past 4 years. It is the result of Industy demand for safe mangement of snow conditions.
Working with CIL as their senior technical sales staff, and Austin Powder Ltd., we support the safe and effective use of explosives at ski hills and Ministry of Highway mountain passes. Through our three-way cooperation we are committed to developing this industry to find safer and more efficient ways to control snow.
On-site product demonstrations
Upgrading Blasting seminars
We have developed a detailed snow blasting procedures field manual available for your staff as a support document. Call us for more details!

Industry specific Avalanche Control products:
CIL Mildet Safety Fuse Assemblies
Stubby Launcher
Snow Launcher Delta K
Nonel shock tube detonators
Snow Crushers for cornice control- .5kg and 1kg
25kg, 12.5kg and 8 kg AN/FO charges
Austin Powder Ltd., Emulex 927AT, cap sensitive emulsion
Austin Powder Ltd., Emuline Cornice Crusher
1kg Snowlauncher rounds, complete with Recco identification micro-chips & environmentally positive micro-organisms
Precast Pentolite Primers, complete with Recco identification micro-chips
29 gram perforating shaped charges
AN/FO anti-skid surefoot bag
Natural Resources Canada approved- Magazine padlocks, hinges, hood tabs and doors
Detonator Sensitive Packaged Emulsion
Emulex 927 AT 2 x 16
Emulex 927 AT CW 2 x 12
Thrifty Booster Snowlauncher 60mm x 1 kg
Booster Sensitive Packaged Emulsion
Hydromite 5 x 30 pounds
Hydromite 4 x 20 pounds
Cast Boosters
5 Pounds 3 Hole Grey Cap Boosters
5 Pounds 2 Hole Grey Cap Boosters
2 Pounds 3 hole White Cap Boosters
2 Pound 2 Hole White Cap Boosters
1 Pound 3 hole Orange Cap Boosters
1 Pound 2 Hole Orange Cap Boosters
8 oz Brown Cap Boosters
All boosters come in DC (Detonator Cord) Sensititvity
Detonating Cord
25 grain A cord
18 Grain Liteline
50 grain Det Cord
Austinite ANFO Charges
25kg Plastic Valve Bags
12.5 kg Plastic Valve Bags
Sure foot nylon non-skid bags
Detonators and Accessories
90 second Mildet Fuse Assembly
1 meter Mildet Fuse Assembly
2 meter Mildet Fuse Assembly
3 meter Mildet FRuse Assembly
Pull Wire Igniters
# 8 fuse caps
# 12 fuse caps
Ballistic Products
Classic Snowlaunchers 1 kg
Stubby Snowlaunchers 1 kg
Snow Sluggers 2 kg
Thrifty Boosters 1 kg
Thrifty Boosters 1/2 kg
Thrifty Boosters 2 kg
Avalanche Guard Boosters 4 kg
Tail fin assemblies made in-house for all ballistic products
Custom Load Propellant Cups for Avalanche Guard System
6 grams to 70 grams
http://www.austinpowder.com/
http://www.cilorion.com/
---
Technical Support for:
Whistler/Blackcomb
Fernie Alpine Resort
Ski Louise
Mount Washington Ski Resort
Kicking Horse Mountain Resort
Ministry of Highways BC
Parks Canada
Jasper National Park
Glacier National Park
Canadian Mountain Holidays
Whitewater Ski Resort
Workers Compensation Board of BC
Canadian Avalanche Association
Marmot Basin
Crystal Mountain
Sunshine Village
Alberta Parks
Lake Louise Warden Office
Stevens Pass
Banff Mount Nordquay
Colorado DOT
Utah DOT
Idaho DOT
Wyoming DOT
Caltrans
Washington State DOT Stevens Pass, Snowqualmie Pass
Mount Baker Ski Area
Mount Hood Meadows Ski Area
Mount Hood Ski Bowl
Crystal Mountain
White Pass
Wenatchie Ski Area
Stevens Pass Ski Area
Mout Rose Ski Area
Kirkwood Ski Area
Alpine Meadows Ski Area
Squaw Valley Ski Area
Mammoth Mountain
Schwitzer Basin
Sun Valley
Jackson Hole
Teton Ski Resort
Bridger Bowl
Moonlite Basin
Yellowstone Mountain Club
Big Sky
BNSF Railroad
Snow Basin
Snowbird
Alta
Telluride
Crested Bute
Aspen Highlands
Arapahoe Basin
BC First Nations
Nuu-Chah-Nulth First Nation
Ahousat
Tofino
Ucluelet
Opitsaht
Cypre River
Beddingfield
Sulphur Passage
Heiltsuk First Nation
Bella Bella
Kwicksutaineuk First Nation
Guilford Island
Haida First Nation
Haida Gwaii
Lyell Isalnd
Sandspit
Charlotte City
Masset
Naden Harbour Davidson Creek
Eden Lake
Dinon Bay
McClinton Bay
Juskatla
Tlell
Tart Inlet
Sewell Inlet
Louise Island Beatty Anchorage
Alliford Bay
Maude Island
Port Clements
Rennell Sound
Tasu
Gitsegukla First Nation Hazelton BC
Gitwanga First nation Gitwanga BC
Niska First nation Nass Valley BC
---
Supply Locations throughout North America
Austin Powder Company
Calgary Alberta
Grand Prairie Alberta
Westlock Alberta
Kamloops BC
Courtenay BC
Ketchikan Alaska
Juneau Alaska
Wasilla Alaska
Onalaska Washington
Roseburg Oregon
Fairfield California
Wesco Explosives Locations
Nucla Colorado
Salt Lake City Utah
Rigby Idaho
---
We have developed a detailed snow blasting procedures field manual entitled "Powder and Snow"
Emulsion Explosives
Classification: 1.1D UN0241 – cap sensitive, 1.5D UN0332 – booster sensitive
Description:
A solution of minute particles of oxidizer salts is suspended in oil.
The emulsion thus formed is protected against liquid and oil separation by
adding emulsifying agents. A bulking medium is then added to the emulsion
matrix for density control. This, can be various forms of ultrafine air
particles. The more air added the more sensitive and less powerful the blend
becomes. Emulsion can carry with it solids like aluminum to enhance power.
A homogeneous blend of a salt particle surrounded by oil with a droplet of
air beside it is obtained. The resulting explosion is extremely efficient
due to the size of each particle causing chain reaction detonation.
Exploding properties include high velocity and low gas volume, a good
combination for snow control work. Different consistencies can be obtained,
anywhere from runny to stiff putty. Avalanche control work is best suited to
a cap-sensitive, stiff, rugged paperwrapped product.
There is also a use for continuous lengths of valeron or plastic
wrapped product. These valeron lengths are traced with 50 grain detonating
cord to insure propagation between the lengths. This is a product designed
for cornice control and is described further in procedures. Emulsions are
comparatively much safer to handle than other high explosives. There is no
possibility of getting NG headaches from touching or smelling. At
temperatures below –10 degrees Celsius it is recommended that a booster be
used to initiate products.
Copyright 2000 Canada #478248


Services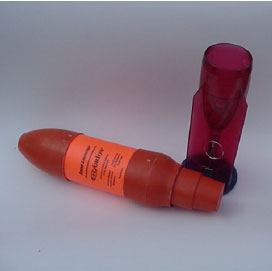 CIL Classic style Snowlauncher and Tail Fin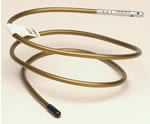 CIL Mildet Fuse Assembly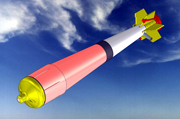 Delta K EES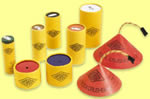 Cast Boosters/Snow Crushers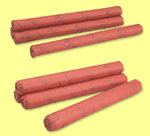 Emulex 927 Paper Wrapped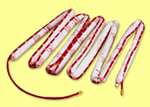 Cornice Crusher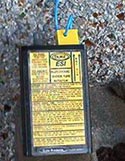 Electronic Shock Tube Initiator "The Duke"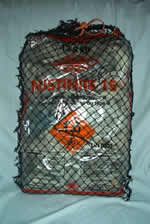 12.5 KG An-fo Charge
Surefoot Bag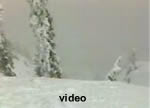 Shock tube hand charging system